Yaesu VX-3R VHF/UHF hand held in pristine condition, work perfect, Have it for only 2 month. Great radio, need money has to part . Comes whit box, manual, charger, b...

Yaesu FT-50R VHF/UHF Dualband HTThis radio is in excellent condition and comes with the original box and user guide. It also comes with an antenna and a wall wart ba...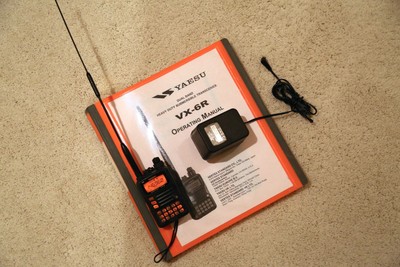 Non-smoker owned and used. 2m/440/220/6m TX unblocked. Never taken out in the rain. Battery holds a good charge. Charger and manual included. Shipping is free in the...

This is for one new, never used Yaesu FT 270. Specs courtesy of Yaesu: 5 Watts OutputThe FT-270R provides 5 Watts of solid powerLarge Backlit LCD DisplayWant a handh...

ITSESP store Yaesu FT-7900R Dual-Band Radio VHF/UHF Mobile Amateur Ham Transceiver 2907#8 DescriptionYaesu FT-7900R Dual-Band Radio VHF/UHF Mobile Amateur Ham Transc...

Kenwood TH-D7A(G) dual Band APRS handheld FM transceiver in great condition. Included is the transceiver, hand strap, non-OEM charger, OEM battery, antenna, belt cli...

ICOM IC-T90A in excellent condition covers 6 meters, 2 meters and 70 cmwideband receiveincluded are both antenna tips, battery, and wall charger no returns or refund...

Yaesu's 144/430 MHz 5-Watt FM Hand-held. The FT-60R includes wide receiver coverage, outstanding audio quality, the most CTCSS/DCS flexibility in the industry, ...

I am selling a Kenwood TH-28A transceiver. This includes: The AC adapter/charger, A standard battery - tested to last over 4 hours, A 1500mah battery - hold down cli...

Handheld TH-28A 144 Mhz Handheld, Battery dead, powers on with wall adapter, appears to operate and offset standard seems to key local repeater and bring it up for c...