Yaesu VX-8R, the original Submersible APRS "Quad Band" HT from Yaesu Transmit up to 5W AM or FM on 6m, 2m, 1.25cm (low power only by manufacturer) and 70cm...

About Us| Shipping| Payment| Terms of Sale| Rolex Warranty Click here to view full size. Full Size Image Click to close full size. Yaesu VX-8DR Multi-Band Submersibl...

Up for your consideration is a Yaesu FT-530 2M/440 VHF/UHF 5 Watt Handheld HT Ham Radio Transceiver with the Mars / Cap modification. Serial #: 3M231133. This radio ...

The duplexer allows you to feed the separate antenna inputs of your radio transceiver with one feedline hooked to one antenna most likely. The one input is marked 1....

Yaesu Vertex Standard VX-150 Handheld 2-Meter TransceiverBrand New - in the Original packaging/boxIncluded in the Auction are:The Radio - Antenna, FNB-64 Ni-Cd Batte...

Yaesu VX-3R VHF/UHF hand held in pristine condition, work perfect, Have it for only 2 month. Great radio, need money has to part . Comes whit box, manual, charger, b...

Yaesu FT-50R VHF/UHF Dualband HTThis radio is in excellent condition and comes with the original box and user guide. It also comes with an antenna and a wall wart ba...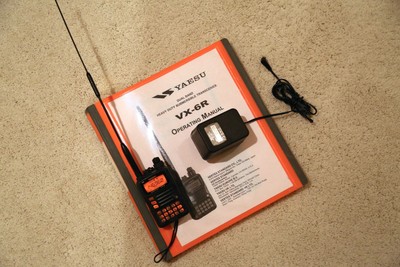 Non-smoker owned and used. 2m/440/220/6m TX unblocked. Never taken out in the rain. Battery holds a good charge. Charger and manual included. Shipping is free in the...

This is for one new, never used Yaesu FT 270. Specs courtesy of Yaesu: 5 Watts OutputThe FT-270R provides 5 Watts of solid powerLarge Backlit LCD DisplayWant a handh...

ITSESP store Yaesu FT-7900R Dual-Band Radio VHF/UHF Mobile Amateur Ham Transceiver 2907#8 DescriptionYaesu FT-7900R Dual-Band Radio VHF/UHF Mobile Amateur Ham Transc...