Serial Nr. 12951. Case is very good condition = 2 small scratches on top, larger scuff underside. Previous owner's call "K5EOA" [SK] engraved on rear ...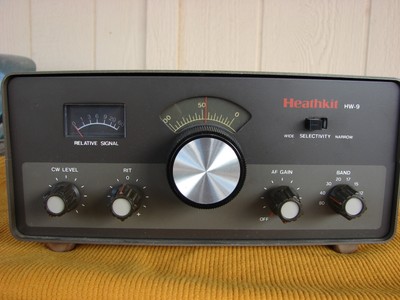 This Heathkit Model HW-9 covers 80, 40, 20, and 15 meters. It powers up and receives signals just fine. Tuning is smooth. The power output as measured into a 50-ohm ...

Great looking and working condition

The Heathkit Model HW-8 Transceiver is a solid-state, four-band QRP (low power) unit covering the CW portion of the eighty, forty, twenty, and fifteen meter amateur ...

This is a very nice, clean Ten-Tec model # 1380 Ham Radio 80-Meter HF band CW QRP Transceiver that I obtained as part of a local Amateur Radio Operator's estate. Als...

This radio is in good condition--may need some TLC for appearance, but works fine for QSOs. I've enjoyed using it; the receiver is very sensitive. It puts out a...

HERE IS A GREAT HEATHKIT HW-8 QRP CW HAM RADIO TRANSCEIEVER.IT IS IN GOOD CONDITION WITH A FEW LIGHT BLEMISHES.THE FRONT FACE IS GOOD & CLEAN.RADIO RECEIVES AND ...

Great looking and working condition

Up for your consideration is a Heathkit HW-8 Qrp transceiver. Radio is estate fresh. We did some brief bench testing and it did transmit and receive . Output was abo...

Heathkit DC Power Supply HWA-7-1 for the HW-7 or HW-8 WORKS NR! It works and comes with original manual. The DC output wires are soldered into the connector, but it ...