This was obtained from a silent key. Last time known to have worked. Sold as is

This a near mint station, complete with power supply, antenna tuner, SWR/PWR meter, all assembly manuals and the actual HEATHKIT catalogue from which it was ordered....

Heathkit Transceiver HW-9 Unassembled Kit with 10, 18, 24 MHZ Kit, orig. Heath Manual,all doc. and the "HW-8 Manual" updates etc.

Up for auction I have this very gently used Heathkit QRP Transceiver, Model HW-8 & HWA-7-1 Power Supply in pristine condition both cosmetically and functionally....

This is a Heathkit HW-104 transceiver in good physical condition and working condition. The transceiver works in USB, LSB, and CW modes. Frequency coverage is 80, 40...

Data Professionals Providing support for legacy Heathkit products. Heathkit HW-7 QRP & HWA-7-1 Power Supply This is the original Heathkit QRP transceiver,...

New in box is an unassembled synthesized 2-meter FM transceiver. As you ca see the box was never unpacked and all packages are intact. I have the matching micoder li...

Thanks for looking at this used HEATHKIT HW-9 QRP HF HAM RADIO TRANSCEIVER. Vintage QRP HF (80-10m) transceiver. Has some scratches on the cabinet. It is UNTESTED so...

Thanks for looking at this very nice HEATHKITH HW-8 QRP HF HAM RADIO TRANSCEIVER. Vintage QRP HF (80-40-20-15m) transceiver. It is in very nice for the age cosmetica...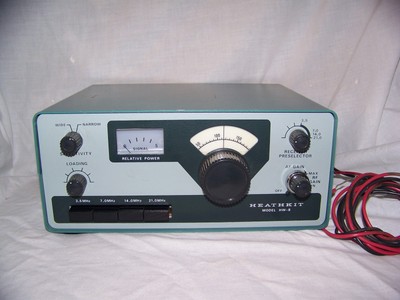 You are bidding on a highly sought after Heathkit CW QRP HW-8; that is in better condition than most "Hotwater" radios I have ever seen. At first, I could ...