Heathkit HW8 100% verified operational. This item includes an HWA-7-1 matching power supply and original manual. Anderson Power Poles are installed on both the power...

This rig bench tested good. Power output was near top of meter scale on all bands. Receiver tested on 40 meters and picked up stations. VFO tunes smoothly. I did not...

Here is my "old faithful" Heathkit HW9 QRP Transceiver (has WARC bands) for sale. Best DX was BY4RB (China) on 15m loading 5w into a TV antenna mast (throu...

Transmits and receives on all bands. Power varies from 0.8 on 80 meter to aout 1.5 watts on 20 meters.PC board is all original with no modifications. On 80 meters mi...

I have in good working condition the Heathkit HW 9 Transceiver. This has the narrow CW filter as well and comes with a short DC power cord. Please see the videos bel...

Serial Nr. 12951. Case is very good condition = 2 small scratches on top, larger scuff underside. Previous owner's call "K5EOA" [SK] engraved on rear ...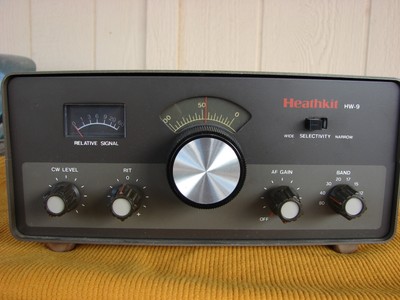 This Heathkit Model HW-9 covers 80, 40, 20, and 15 meters. It powers up and receives signals just fine. Tuning is smooth. The power output as measured into a 50-ohm ...

Great looking and working condition

The Heathkit Model HW-8 Transceiver is a solid-state, four-band QRP (low power) unit covering the CW portion of the eighty, forty, twenty, and fifteen meter amateur ...

This is a very nice, clean Ten-Tec model # 1380 Ham Radio 80-Meter HF band CW QRP Transceiver that I obtained as part of a local Amateur Radio Operator's estate. Als...