Transmits and receives on all bands. Power varies from 0.8 on 80 meter to aout 1.5 watts on 20 meters.PC board is all original with no modifications. On 80 meters mi...

I have in good working condition the Heathkit HW 9 Transceiver. This has the narrow CW filter as well and comes with a short DC power cord. Please see the videos bel...

Serial Nr. 12951. Case is very good condition = 2 small scratches on top, larger scuff underside. Previous owner's call "K5EOA" [SK] engraved on rear ...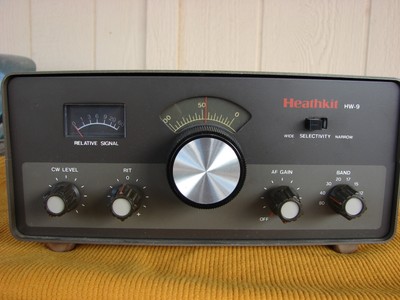 This Heathkit Model HW-9 covers 80, 40, 20, and 15 meters. It powers up and receives signals just fine. Tuning is smooth. The power output as measured into a 50-ohm ...

Great looking and working condition

The Heathkit Model HW-8 Transceiver is a solid-state, four-band QRP (low power) unit covering the CW portion of the eighty, forty, twenty, and fifteen meter amateur ...

This is a very nice, clean Ten-Tec model # 1380 Ham Radio 80-Meter HF band CW QRP Transceiver that I obtained as part of a local Amateur Radio Operator's estate. Als...

This radio is in good condition--may need some TLC for appearance, but works fine for QSOs. I've enjoyed using it; the receiver is very sensitive. It puts out a...

HERE IS A GREAT HEATHKIT HW-8 QRP CW HAM RADIO TRANSCEIEVER.IT IS IN GOOD CONDITION WITH A FEW LIGHT BLEMISHES.THE FRONT FACE IS GOOD & CLEAN.RADIO RECEIVES AND ...

Great looking and working condition